ABOUT CORYHILL BEEF
Home Bred
The Coryhill Herd is a suckler herd. The calves are naturally reared by their mothers for at least ten months, late into the cows next pregnancy; hence the term 'suckler beef'. Red Devon cows are renowned for being 'milky' mothers. The majority of the calves are born and bred on the farm.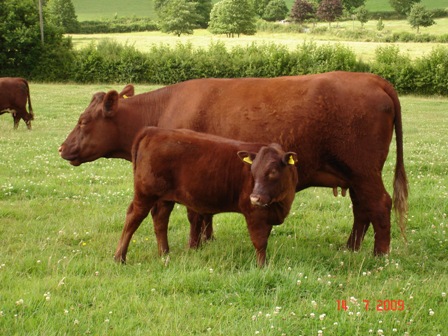 Whitefield Ferdinand is our stock bull and runs with the herd during Spring and Summer.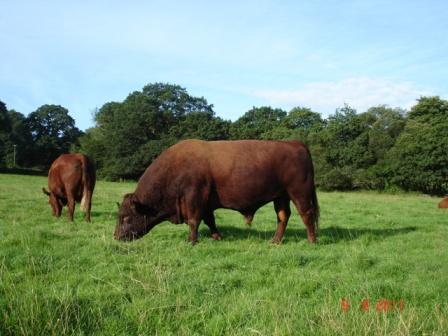 Finishing
Weaned cattle are grown on for another twelve to eighteen months grazing on wild flower, clover and grass pastures in the the Spring and Summer. In the Winter months they feed on hay made on the same pastures. Unlike modern breeds destined for the mainstream market, supplements of cereal concentrates are not needed to finish the cattle; this would diminish the taste of the end product.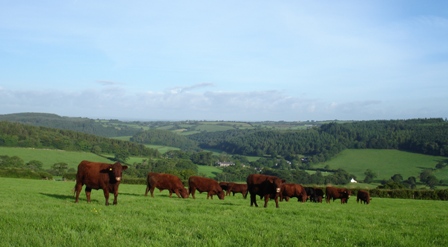 Slaughter, Hanging and Butchering
Stock is taken directly to a local abbatior and butcher. The beef carcasses are dry hung for three weeks in a cooler to tenderise and become flavoursome. The process is called "dry ageing" because the meat drys as it hangs and some moisture evaporates. This process fell out of favour with mainstream processors and retailers in the the 1960's. The modern method is to plastic wrap meat immediately, this being more cost effective. However, this compromises the ageing and tenderisation process.
The carcass is then butchered and individual cuts are vacuum packed and labelled.
Delivery
Available fresh or frozen to your door.
CUSTOMER QUOTES
"Delivered by a helpful courier. Great packaging and very impressed by the selection in the box. We had the rolled rib on Sunday for a client and it was truly the best beef I have ever tasted" Sophie Thompson, Oxfordshire - July 2011
"We had the silverside yesterday for Father's Day lunch and Dad was very impressed with the flavour! Definitely an endorsement from the Moores!" Sophie Moore, Butcher and Graziers Daughter - Lincolnshire - June 2011
"We had your silverside tonight, slow cooked in beer (Adnams Broadside) for three hours. Melt in the mouth richness. Very much appreciated" Ian Boulton, Teddington - May 2011